by Mike Granger / Predator Masters
One does not have to spend much time in the Firearms forum on Predator Masters to come to the conclusion AR-15's are a hot item. Having purchased one myself about three years ago, I tend to key in on the topics dealing with these wonderful firearms.
One night I noticed a thread of a new member who seemed extremely knowledgeable about everything AR-15. He was answering some hard questions with authority that can only be born of experience. I decided it was imperitive I call the guy and let the Pro Staff know this may be a good individual to sign up as an advertiser. The next day found me talking to Mike Milli, of Dedicated Technology, on the phone. We were having a difficult time talking as his secretary was home sick and everytime a call would come in, his phone would beep, breaking communication between the two of us. He was getting a lot of calls! Eventually we finished our discussion at which time I decided two things. One, Mike was no doubt an expert on AR-15's and two, I had to have one!
Mike buys his barrels directly from Olympic Arms. His 5.56 barrels are broach-cut which produces an extremely consistent and accurate barrel. Mike also does something I've never seen with any other AR. He has developed an Integral Compensator. Your first response will be as mine. The AR-15 doesn't kick at all, why would you want a compensator? That's exactly what Mike hears day in and day out. As he explained to me, while prairie dog hunting in Montana, his pre-teen son could not keep the scope on the dogs to see the hit. After pondering the problem, Mike came up with the compensator. The ports are only on top, expelling gas vertically, and therefore keeping the barrel almost stationary during each shot. As simple as it sounds, it does work, well!
During our phone conversations, Mike informed me he had one 24 inch barrel in stock. I immediately asked him to port and flute the barrel and get the completed upper to me as soon as possible. Two weeks later, (yes, you read that right, two weeks) the UPS man was dropping off my completed Upper. The barrel is .925 inches in diameter with six flutes running the entire length of the barrel of .160 deep. These are deep flutes that take a considerable amount of weight off the barrel while maintaining stiffness and strength. A vented forend free floats the barrel from the barrel nut forward and a bipod/sling stud is installed for mounting most bipods. The Integral Compensator is seamless. I know it is threaded on, but for the life of me, I can't find a seam. Another example of quality craftsmanship.
As with all AR's, the upper was extremely easy to install to my Bushmaster lower. Two pins and 30 seconds and I was ready to shoot.
The next two days were agonizing as snow prevented me getting out. Finally, things cleared up and out to the range I go. Some of you are going to kill me for this, but my range is out the back door, literally! I pace off 100 yards from the deck of the house and set up my target.
The very first group measured .985. This was factory "white box" Winchester 55 grain spire points. The next groups were reloads used in my other AR. All five groups were under an inch with one three shot group measuring .269! Wow was all I could say.
I am by no means a benchrest shooter. Just a coyote hunter who wants the bullet to go where I'm aiming. My "shooting bench" consists of lying prone and shooting off of a Harris bipod or draped accross the hood of my truck. I venture to say most of us fall into this category.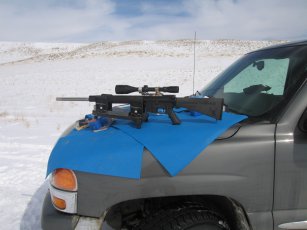 I don't expect any of my guns to shoot bug holes all of the time, because, honesty, I'm not capable of doing so. Whenever I get a gun that will shoot one inch under these circumstances, I'm happy. Not only did Dtech's upper perform to my standards, but all of the 5 shot groups averaged under 3/4 inches with my reloads. I was ecstatic. I can only imagine how this gun would perform in competent hands and from a real benchrest!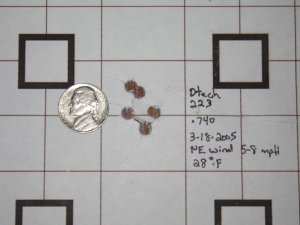 Now to compare. I've owned a Bushmaster Varminter for almost three years. Wonderful things have been written about these guns and I've killed a truckload of coyotes with mine. Dtech was confident his gun would outshoot the Varminter. Needless to say, I was sceptical of his claims. I was wrong! Just like doubting Thomas, I now believe for I have seen!
Bottom line, Dtech's claims of building a custom AR-15 capable of shooting 1/2 to 3/4 inch MOA are true. He is extremely knowledgeable about these weapons and produces a quality firearm. AR 15's are taking the coyote hunting masses by storm. Having owned a couple now, I can confidently say they are an excellent coyote hunting weapon, capable of multiple followup shots and excellent accuracy. If you are considering buying an AR-15, I highly recommend visiting with Mike Milli at Dedicated Technology. Beware though, they are addictive!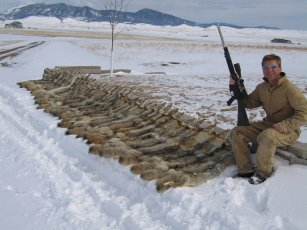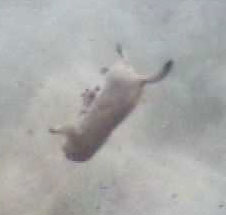 Super Dog....