Posted by: Silverfox
North Dakota Prairie Dog Hunt -
07/18/15
10:52 AM
My son and I finally found a day when we could go out and do some prairie dog shooting together this past Saturday. There was more wind than we were wishing for, but I had the rifles and loads tuned up and with the trajectory and wind deflection charts on the rifle stocks, we managed to shoot pretty well in the breeze. We left Williston at about 7:35 a.m. and hoped that the dew would be gone off the prairie grass. On our way to the PD town on a gravel road I spotted a snake stretched out on the right side of the road bed. I stopped, backed up, and wanted to see if it was a rattler. My son said he could see the tongue flicking out. I walked around toward the snake and noted it wasn't a rattler so I touched its tail and this bull snake coiled up and was ready to bite whatever got too close. We got back into the pickup and drove on down to the PD town. I parked the pickup in the shade of the trees.
We broke out the rifles and installed a Harris Bipod 9-13" notched leg swivel bipod on the Remington 700 BDL Varminter .17 Remington rifle my son would be using. It has a nice Cabela's Alaskan 6-20x50mm AO scope on it and the reloads are in Remington brass with Remington 7½ primers and 25 gr. V-Max bullets. The reloads have 21.1 gr. of N-133 in them and the muzzle velocity of that load is 3,858 fps. That's not blazing fast, but it is a super-accurate load. I took out my old Savage 12VLP .204 Ruger with the
BLACKNITRIDE™
treated barrel which is a super match grade Pac-Nor with a 1 in 11 twist and 3 grooves. I had it finished at 24" and threaded for my suppressor and it was chambered with a .230" neck, .042" of freebore and .013" of throat. I'm using WW brass, Remington 7½ primers and a load of 26.3 gr. of IMR 8208 XBR powder pushing the non-coated 39 gr. Sierra BlitzKing bullets out of the muzzle at 3,768 fps. Just like the .17 Remington load my son was shooting, the load for this .204 Ruger is not blazing fast, but it is
SUPER ACCURATE
!!! I do have some test loads ready to try that will push the bullets a bit faster to see if they are as accurate as the load I'm using.
We left the pickup a little after 10:00 a.m. We headed toward the area of the dog town that the rancher wanted me to concentrate on. I was doing a lot of spotting for my son. By 11:07 a.m. I had shot 5 shots and hit 6 prairie dogs. My son had shot 19 shots and nailed 16 prairie dogs. By 12:15 I had shot 11 shots and bagged 9 singles and one double so I had 11 kills for 11 shots. My son had shot 21 more shots and hit on 20 of them. His total so far was 36 PDs for 40 shots.
Here's a link to four videos of some PD action and the link is right below here. You can use the right arrow to move from video to video and they should start playing automatically as you go from one to the other. I apologize for the shaky videos—I was using my digital camera, standing in 15 to 20 mph winds and trying to hold the camera steady—I was not very successful. If you play each video twice, the second showing will most likely be a little less herky-jerky. ENJOY!
http://smg.photobucket.com/user/Silverfo...?sort=4&o=0
Twenty-five minutes later I ran out of ammo. It was about 12:40 and we spent the next 30 minutes gathering up some of the shredded prairie dog bodies for a group "Hero Photo" session. My shot count to that point was 2 missed shots, 3 doubles and 37 singles for a total of 43 dead prairie dogs for 42 shots. Jeff had missed on 6 of his shots and nailed 2 doubles and 59 singles for a total of 63 dead prairie dogs for 67 shots. Here's our
"Group Hero Photo"
!!!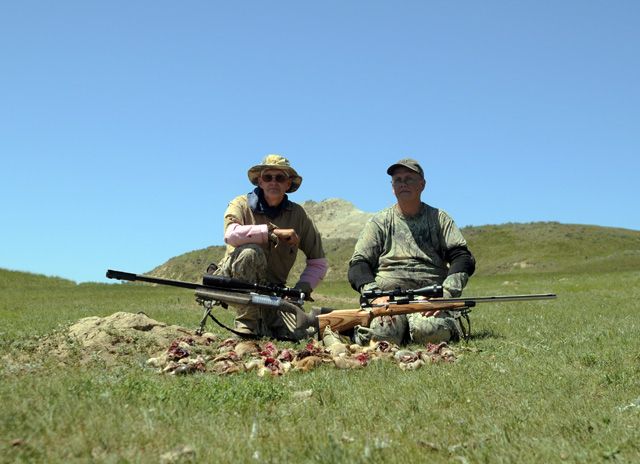 Here's a collage of some of the blossoms we photographed.

We finally got back to the pickup around 1:45 p.m. and got out our lunch and settled in the shade of a tree. We finished lunch and decided to take a nap at about 2:35. It was about 4:00 p.m. when we woke up and got our water supply replenished and stocked up on more ammo. I switched from the .204 Ruger to my tight-neck .17 Remington built on a Remington 700 BDL action. It has a
BLACKNITRIDE™
treated super match grade stainless steel 1 in 9 twist 3-groove Pac-Nor barrel on it. It is threaded for my Ranger II suppressor and I'm shooting hBN coated 25 gr. BTHP Kindler Gold bullets. I'm using a load of 23.6 gr. of IMR 8208 XBR powder in neck turned Remington brass and using the Tula small rifle magnum primers. The muzzle velocity of this load is 3,991 fps and it makes the prairie dogs do some nice acrobatics. Jeff continued to use the .17 Remington and the 25 gr. V-Max reloads.
Here are a couple photos of a thorny weed I had not seen before. In one of the photos I placed one of my .17 Remington reloads with a 25 gr. BTHP Kindler Gold bullet on the blossom for a comparison of the size of the bloom or seed head. Does anyone know that the name of this plant might be?

We had a couple of Nighthawks flying around just a bit west of where we had parked the pickup. Jeff has a high-speed lens on his camera and snapped lots of photos of the birds as they flew overhead.

We headed off to the SW of the pickup at about 5:00 p.m. The wind was now wafting at 15 to 20 mph from the NW and that made connecting on PDs a little bit more difficult than it was during our morning shoot. We took turns spotting for each other and by 6:30 I had shot 17 shots and connected on 15 prairie dogs. Jeff was shooting off to the SW and I was shooting off to the WNW. Jeff discovered he had lost 9 pieces of brass and some that were probably still loaded. We backtracked and found two loaded rounds and one fired round, but didn't find the other 6 pieces. By 7:45 I had shot 35 shots and had 5 misses, 1 double and 29 singles for 31 dead prairie dogs out of 35 shots. Jeff missed on 5 of his shots; he did hit on a triple, 2 doubles, and 23 singles for 30 dead prairie dogs for his 31 shots. Those triples and doubles help the totals. We left the dog town around 8:15 p.m. and got back to Williston around 9:40 p.m.
While the wind was making the shots difficult, it was also helping to keep us cool. We had plenty of water and made sure we kept hydrated. We managed to take a total of 175 shots and killed 165 PDs. All in all, it was a fun day and a good time was had by all
EXCEPT
the prairie dogs.