The following article is written by our very own Randy Watson, Moderator of the Night Hunting Forum. Randy is a guide/outfitter that hails from Midland, Texas and owner of Varmint Masters Guide Service. This article is also being reprinted with permission from The Trapper and Predator Caller Magazine which first appeared in the February, 2002 issue. Our thanks to The Trapper and Predator Caller!
NNight Hunting by Randy Watson
We were both huffing and puffing when we finally got to a rise in the darkness that seemed like a good vantage point. It was hard to tell, judging only by feel. It was two in the morning, we had been poked by mesquite thorns and stumbled along in the night for better than a half hour. We could finally relieve our aching arms from the load. The load of a heavy car battery carried in an old metal milk crate that drained our arms strength while the other arm was busy carrying an old twelve-volt spotlight and a twenty-two rifle. We had been pretty lucky at calling coyotes in the daylight hours, but knew the night hunt would produce a truckload. After all, there was a ten-dollar bounty and at the ripe old age of thirteen, we knew after one night, we would be pretty much set for life.
After a few minutes of catching our breath, all the while attempting to hook up our makeshift spotlight, I mustered enough breath to let out a squall on the Burnham brothers long-range predator call. I had saved my money and ordered the predator combo, which consisted of a long-range call and a cottontail squeaker. They had been responsible for the death of many a wary coyote. The silence of the darkness was broken by a blood-curdling cry of a Jackrabbit having his toenails pulled out. After many years of rabbit hunting in West Texas, I had a good idea on how to imitate the most excruciating cry of a big 'ol Jack.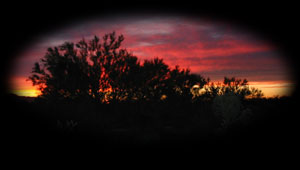 As the resilience of the first squall was fading, we sat there in total darkness. Feeling some apprehension and a lot of excitement, I continued to send out the sounds of an easy meal to any unsuspecting critter within earshot. My buddy and I looked at each other through eyes the size of silver dollars when we heard a growl that sounded close enough to be one of our stomachs. As he scrambled to find the switch on the light, the hair on the back of our necks stood up like porcupine quills.