Posted by: BoondockOutdoors
Update 5/9/2010 Boondock-Outdoors "Silent Halo Shields" -
11/22/09
01:14 AM
Gentlemen(and Ladies),
First off I would like to thank the members of Predator Masters for the interst that they have shown in my products.
Due to the high demand of orders that I have been receiving for the "Silent Halo Shields", I have decided to update my advertisement here on Predator Masters. At the bottom of this post you will find a detailed price list for all of the "Silent Halo Shields" that I currently offer.
The "Silent Halo Shield" is a soft crushable halo shield designed to be used on hunitng lights. You will no longer have to tape your colored lens cover on to stop the side and rear spillage of light. This helps you while you are night hunting in a few different ways. First it will help to preserve your night vision. Second with the less side spillage of light you have less of a chance to illuminate your hunting partners/equipment/high rack/vehicle or even yourself dependig on your hunting style. These shields also help to protect your light(that may cost a few hundred dollars) in the event that it is dropped. The shields also help to reduce noise associated wilt certain models of lights. Some lights sound like a bongo drum if slightly bumped by "anything". Coyotes can hear a mouse squeeking from quite a distance, how far do you think they can hear that bongo drum from..LOL. The shields for these models of lights are designed to cover the whole head of the light and deaden any the drum effect.
Here are a few pics of some models I make: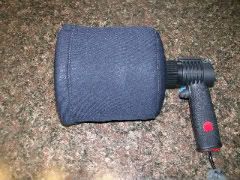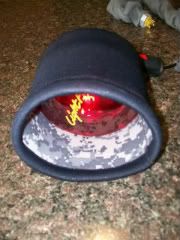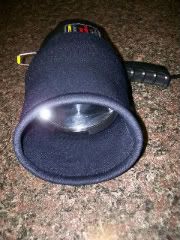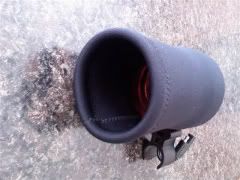 Here is a current price list for the "Silen Halo Shields" I offer:
Lightforce 140 $20.00
Lightforce 170 $20.00
Lightforce 240 $25.00
Magnalight 5" $20.00
Magnalight 7" $20.00
Cyclops Seeker $20.00
Q-beam most models $17.00
Primos/optronics 250/350 $15.00
Cabelas new led scopelight $15.00
5100/5200 coon caps $14.00
Predator light $15.00
Custom shields made upon request.(Price will depend upon request)
Shipping & Handling(in the continental U.S.)/Foreign orders pay actual shipping:
one product $3.00
two products $4.00
three or more products Free shipping
*(Lightforce 240's shipping will be $1.00 more. Due to the size of these shield they have to be shipped differently. if three or more of these are ordered I will only charge $1.00 per shield to help me offset the cost of shipping.)
If you would like to place an order you can send me a privat message here on Predator Masters or send me an e-mail at boondockoutdoors@verizon.net
I accept Check, Money order, Paypal or the new Gunpal payment system.
Also keep an eye out for more new and innovative predator hunting products to be release in the near future.
Thank you for your interest,
Jeremiah Weber
Here are a few success pics sent to me by customers. I tried to post more but for some reason it will not allow me to add any more pics to this thread..