Posted by: Snowshoes
Last Stand -
03/05/19
11:40 PM
Well with it still being cool out, I decided to get one last hunt in. My wife had a doctorís appointment in the city at 11:00 a.m. which would mean we needed to leave home shortly after 9:00 a.m.
I knew I had time to get a quick hunt before breakfast so I was up at 5:45 a.m. and ready for first light.
A quick look at my weather station showed -19C (-2F) but the breeze would bring those temperatures down to -27C (-17F)
Left the yard at 6:35 a.m. and I knew I wouldnít have time to watch those coyote trails this morning, so instead it was a hunt a couple miles from home. Parked the truck, then walked a quarter mile north on a lease road to try call a coyote from the rolling fields and the vast slough bottoms.
I set up on the edge of a thin row of trees and after getting settled in, I start off with a couple howls. Almost instantly, I get a group from the southwest and what sounds like a pair to the northwest returning howls. A short wait before I howl again but this time I get no answers back.
For some reason, I felt like I should look behind me and sure enough, I see a pair of coyotes trotting across the field towards me. I quickly turn around when the coyotes are out of sight. I watch the lead coyote stops twice to scratch a spot in the snow with its hind legs and mark its territory. The coyotes are taking advantage of the wind swept hill tops for ease of travel and on the third stop I have the cross hairs placed on the lead coyotes chest. A 161 yard shot has coyote # 56 down.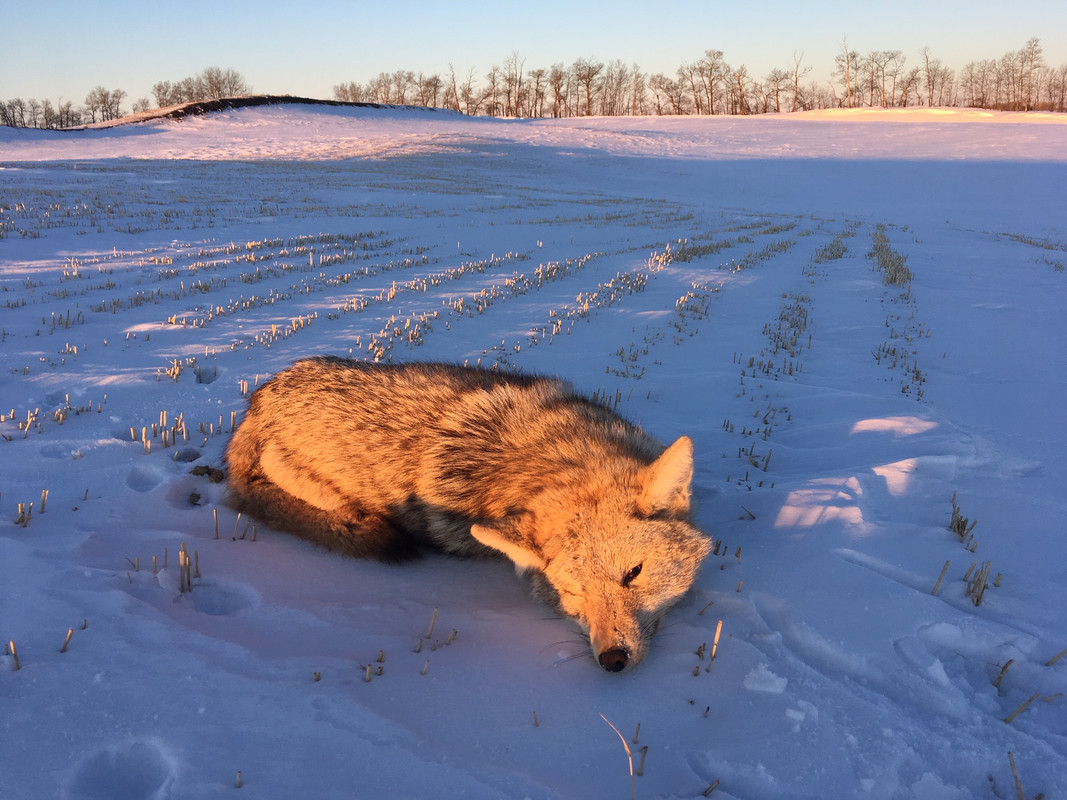 Well this is my last coyote hunt for the season as the fur quality is dropping. Also I see the temperatures are to be around the freezing mark by the weekend.
For some reason, this coyote season seemed to fly by!