Posted by: derbyacresbob
I had two good Valentines day coyote calling stands! -
02/15/13
12:19 AM
I went out to do some coyote calling and check two of my trail cameras today. The coyote calling was pretty slow to start with, I made six stands and had not seen a coyote.
When I went to check my second trail camera I parked in the bottom of a canyon where I have hidden my truck in the past when I called coyotes about 1/4 mile down the big main canyon. When I was walking back to my truck I was planning on getting in the truck to go to another area to call.
I decided that I may have a chance to call in a coyote without walking down the big main canyon. I set my rifle down about 25 ft from my truck and put my Foxpro Fury about 40 yards away, right next to a old juniper fence post. So I was laying prone with my rifle about 25 to 30 ft from my truck.
I started out with Prairie Dog Distress and within a few minutes I noticed a light colored coyote standing on a ridge about 500 yards away. The coyote was easy to spot standing on the ridge in the short green grass. This coyote just stood there for quite a while, I tried some different distress sounds and the coyote just stood there. I switched to Coyote Growls sound on full volume and the coyote started walking down the ridge.
It walked about 100 yards and stopped. I switched sounds to Coyote Pup Distress 3 and the coyote walked down behind a ridge and went out of sight. A few minutes later I saw it walk out into view again and it was about 250 yards away. It stopped again so I switched to Vole Squeaks, the coyote started walking down the ridge towards the canyon bottom. This coyote stopped a few more times but ended up walking all the way down to the edge of the deep ditch at the canyon bottom.
The coyote was now right at 150 yards away so I shot the coyote with my 22-250 when it turned broadside.
I put the coyote in the old road right where I was laying prone with my rifle during this stand. I was laying down when I took the above picture.
This picture was taken from the same spot but I was standing up when I took this picture. You can see how close my truck was to me when I was laying prone with my rifle.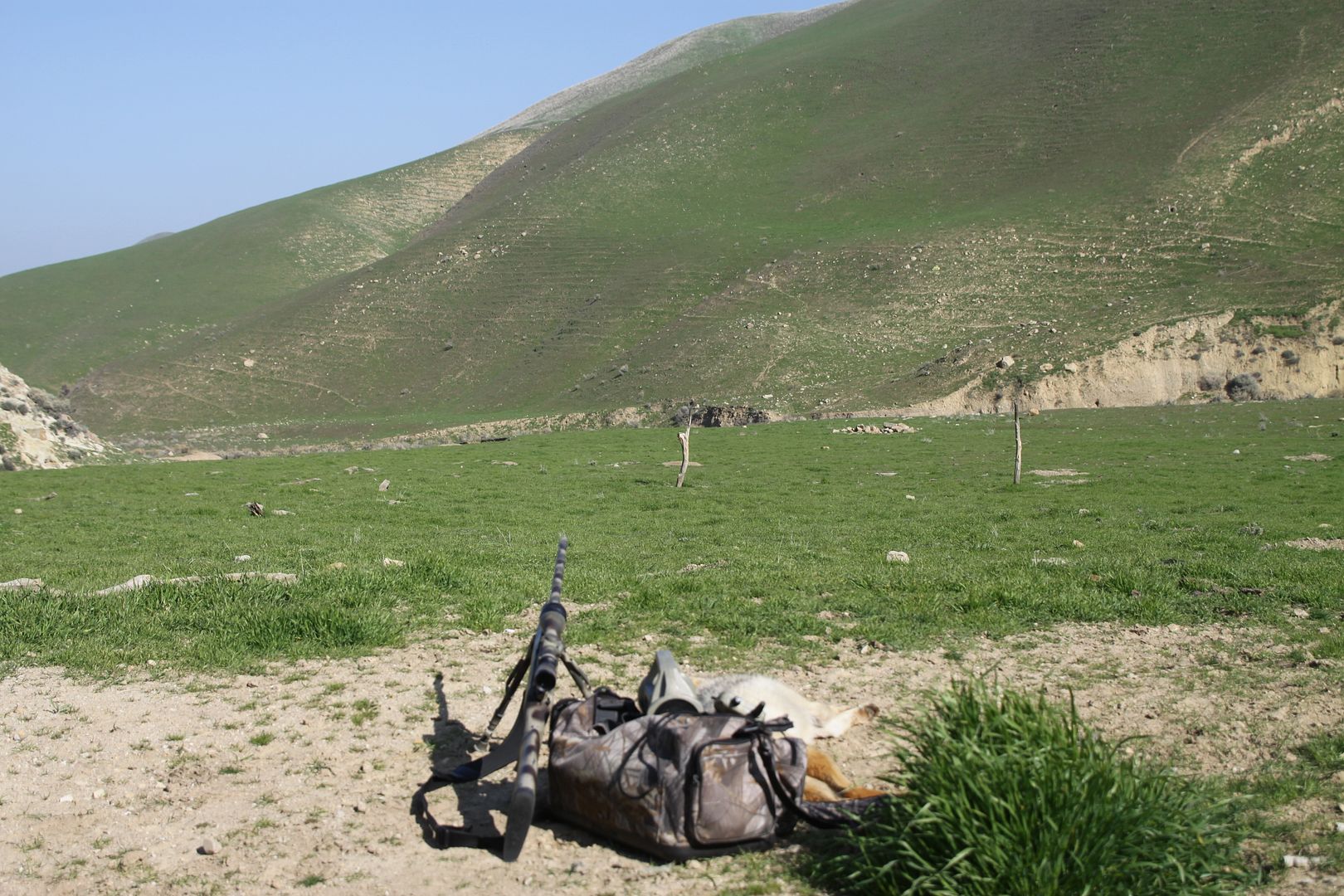 The juniper fence post in the middle of this picture is where my Fury was setting. The coyote was just below the top of the green ridge on the left hand side of this picture when I first spotted it. This female coyote walked in the whole way from that green ridge top on the left to about 150 yards away straight across the canyon.
On my next stand I set up on a hill top overlooking a big basin that has a bunch of ground squirrels in it. I was laying prone with my rifle again about 50 yards away from my Fury. I started out with Prairie Dog Distress and after a few minutes I heard a bunch of coyotes start calling from a big mountain about two miles away on my right. Then I heard some coyotes to my left and they were only about a mile away.
These closer coyotes sounded just like Foxpro's Coyote Pair sound so when they were done calling I played Foxpro's Coyote Pair sound one time through and then muted my Fury. I didn't hear these closer coyotes again and after about 6 to 8 minutes I started playing Male Coyote Challenge 4 sound. Within about 15 seconds of starting Male Coyote Challenge 4 sound two coyotes came running down the hill to my left. The coyote in the front stopped and I shot it at about 70 yards away. The other one was running away but it stopped when it heard Foxbang kick on Coyote Pup Screams. I should have got a double but I got excited and missed the coyote at around 100 yards away.
I am pretty sure these were the coyotes that I had heard earlier. They ran side hill and then down to where I was set up. By running around the mountains side hill they didn't have to drop down and then climb back up to get to where my Fury was.
This is where my Fury was set up during this stand. I heard these coyotes on top of the ridge on the other side of this basin, they were close to a mile away.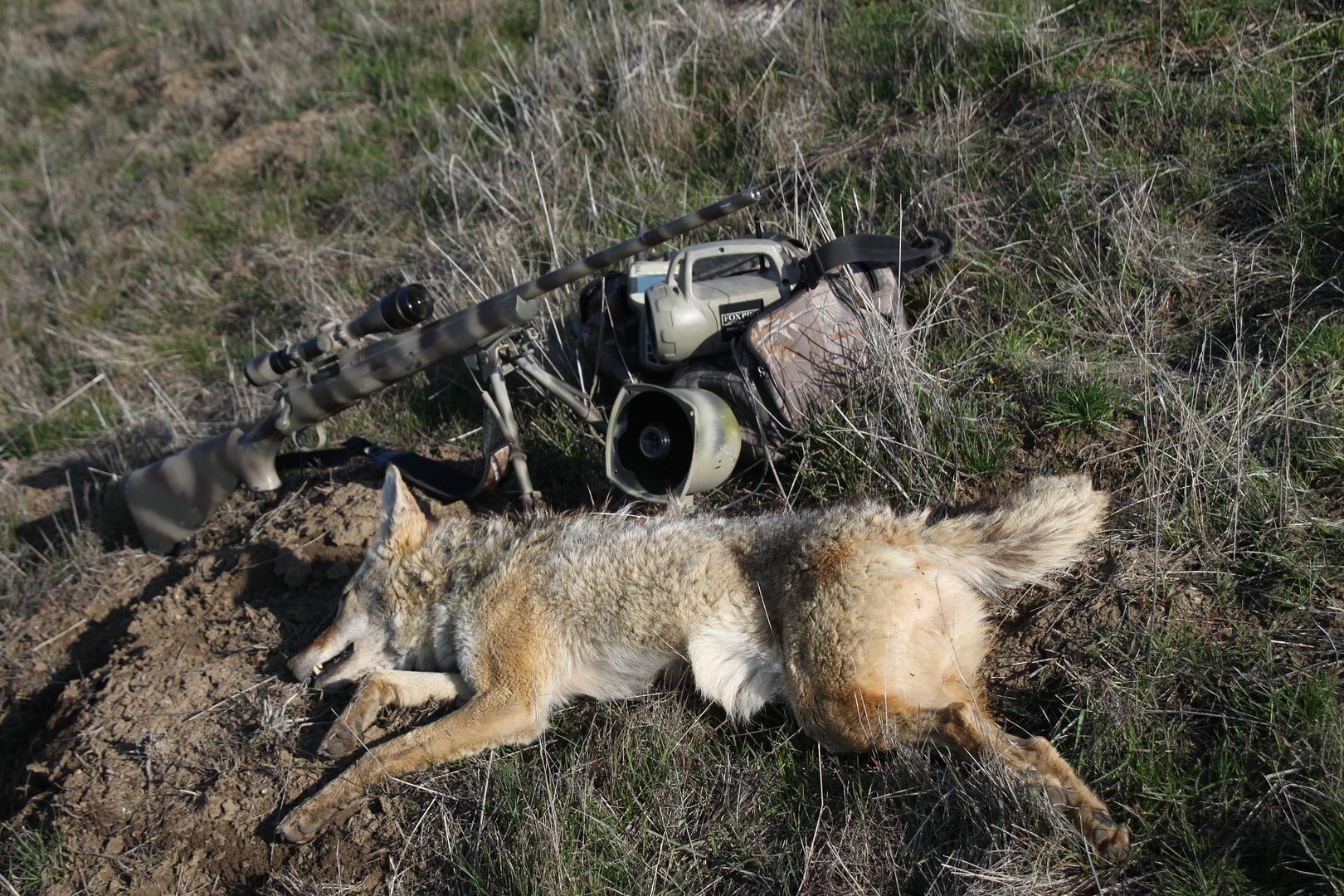 This was also a female coyote but it was a little bigger than the first one.
It was a great valentines day!