Posted by: Switch
Alyssa's first coyote! -
10/08/12
02:07 AM
Well, I figured this post was coming this season some time, but I had no idea I'd be posting about Alyssa's success after our first trip of the season. We were supposed to head out on Saturday, but a girl scouts overnight camp out moved our trip to today. We got a late start, which always seems to work out for us.
Once we got out to our area, we ran around looking for rabbits. Even though it was a pleasant temperature, not much was moving. We decide to do a little target shooting. I set up some targets and let Alyssa start plinking away. Now Alyssa has been coming out with me since she was seven, she's now twelve. After letting her shoot off a bench just once back then, I moved her to the sticks. Now that's all she shoots off and she is pretty darned good. She moves well with the sticks and more importantly, she's comfortable using them to shoot.
Towards the later part of the afternoon, we drove around looking for a few really good looking stands. I've hunted this area before, but I had a couple of places I really wanted to explore. As a recently licensed hunter, Alyssa and I have only been on a half dozen stands where she is on the rifle. On those stands, I shoot back up with a second rifle. I told her today that I was just there to call and she would be the only shooter. These stands were all about her and whatever happens happens.
The first stand was a bust. Back at the truck she mentioned that her heart was thumping the entire time we were calling. After driving a bit more, we find a great last stand of the day. We set up over looking a long drainage that moves left to right. We can easily see straight out for at least two miles. The sun had just dropped and the terrain was perfect and is exactly what I like to see in a stand.
I'm sitting on the left with the Browning 12 ga just in case and Alyssa is sitting to my right with the 204 pointed about 2:00. We start calling and start searching. Alyssa is a statue on stand and we are both just waiting. After about twelve minutes, Alyssa turns towards me and slowly holds up five fingers, which is code for how much longer. This place just looked too good so I hold up three fingers indicating three more minutes. It's a good thing I did.
The coyote came in way to my left at about fifteen minutes and if I hadn't been looking that way when he popped out, I never would've spotted him. I whisper to Alyssa that we have one coming and her head whips around fast. I tell her to calm down, to be careful and to move slowly. Truth be told, i was a wreck inside. With her rifle pointed at 2:00, she needed to move it left to at least 9:00 to have a chance. The coyote weaves his way to the call, taking his time but interested. When he drops behind some brush I whisper to Alyssa to move on him. She quickly and quietly swings her set up into position as he peaks out and stops. He has no idea we're there. He looks around, looks over his shoulder and I see Alyssa move a bit more. I ask her if she's on him. No answer. Can you see him? I ask. The shot comes and smacks the coyote. He spins a few times, but he's dead on his paws and tips over about 95 yards from where we're sitting. Alyssa just killed her first coyote!
After the shot Alyssa was shaking so bad she couldn't pick up her brass. I could hear the excitement and shaking in her voice. I gave a huge hug and told her how proud I was. Ive shot a lot of coyotes, but I have never been so nervous and excited as I was today on that stand. I will remember the stand where Alyssa shot her first coyote for the rest of my life.
One brand new coyote hunter. That smile says it all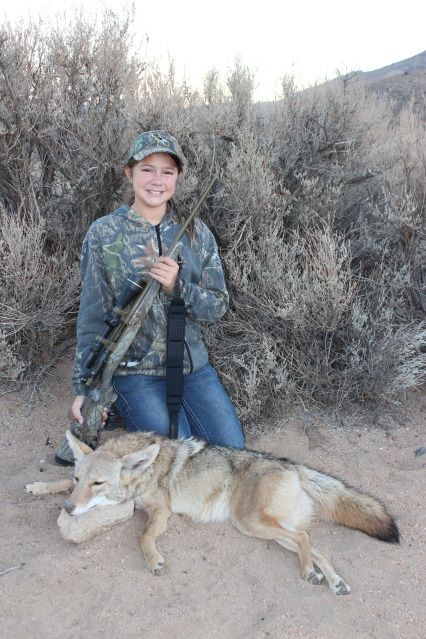 One very proud dad!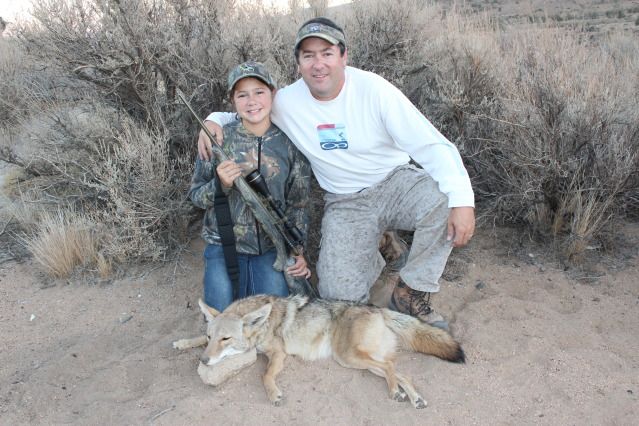 Alyssa's first coyote. And yes, the taxidermist has been called.