Posted by: Ursus21
Friday The 13th...(Pics Included) -
07/14/12
03:37 PM
As I sat with my back against a large round hay bale, while overlooking a freshly swathed alfalfa field, I wondered what kind of luck I would have on Friday the 13th. I was excited to try this stand because I had an unusual East wind. Normally the wind blows from the West making this stand impossible to hunt. Plus, I was also very pleased to be hunting over a freshly cut field. A fresh cut field to a coyote is like an all you can eat buffet is to a sumo wrestler. The sky was overcast with an impending rain storm not far off. What little sun that did shine through was at my back. The wind was calm at around 5 mph or less and in my face. If ever there was a perfect coyote stand this was it. I glanced down at my brand new Ruger Hawkeye Predator rifle, topped with a Bushnell Elite 6500 Tactical Elite 4.5-30x50mm scope. I made sure it was on its lowest setting. It was the maiden voyage for this rifle/scope set up. Its very first time in the field on its very first stand. After having sighted it in a few weeks prior with Hornady Superformance 50gr VMax 22-250 ammo I was confident it could do the job. With the pleasant smell of the fresh cut alfalfa in the air, I began my sequence with some soft rodent sounds. In such calm conditions sound carries far, and I didn't want to start off too loud. After a few minutes I increased the volume and switched to Cottontail DSG on my FoxPro CS-24B. At about the 10 minute mark coyotes started to howl all around me. I let the DSG sound continue for another 5 minutes expecting coyotes at any second. However nothing showed. I muted the caller and sat for 5 minutes contemplating my next move and hoping something would show. The coyotes had gone quiet and nothing showed up. I then decided to shake things up a bit and went with a fairly loud female howl with some barks thrown in for good measure. I just cut out with a few and then went silent for a few minutes. I then repeated the howls, but howled perhaps twice as long and then went silent again for a while. At around 30 minutes on the stand I let out with one more set of howls and was in the middle of doing so when I caught movement out in front of me and a little to my right. There was a pair of coyotes bouncing around between the cut hay rows working their way in. I shut up and watched them. However they seemed a little lost as to where the howls were coming from so I coaxed them a little with some squeaks. A large male cleared the cut hay and came out into the cleared field with the hay bales that I was sitting in. The other coyote hung back and had disappeared from my sight. The big male turned back to see where his partner was, and provided me with a 65 yard broadside shot. The two stage target trigger on my Ruger broke clean and the coyote hit the ground hard, with a perfect pea sized hole right in the middle of his close side shoulder. He went down like the Hammer of Thor had just smacked him. I switched to KiYi's but no other takers showed up. When I approached the coyote I flipped him over to check how bad the damage might be from a 50gr Vmax traveling at 4000fps. I was pleased to see there was not exit wound. (Very favorable first impression.) I took a few quick photos and then drug him back to my pickup.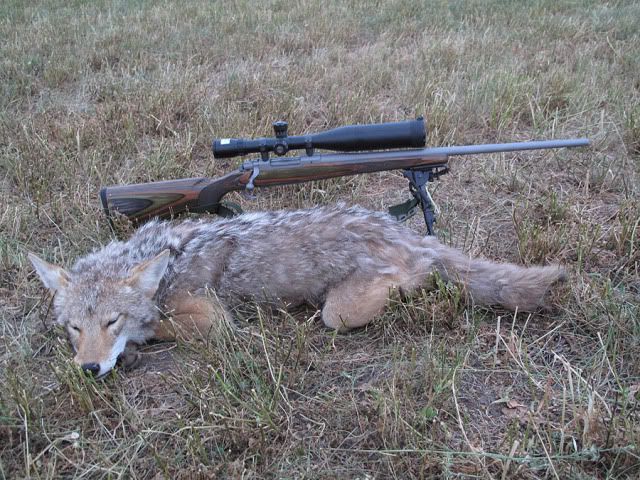 It was now getting dark fast and it began to sprinkle. I could also see lightening off in the distance and hear thunder quite a ways off. I jumped in my truck and headed for home. I hadn't gone more than a few hundred yards when I came across the main reason I do not call coyotes in the warmer months all that often. It's not for any kind of ethical or moral reason. I have no problem killing coyotes year'round, but I absolutely, positively, unequivocally HATE SNAKES! I hate rattle snakes most of all. I'm just glad I didn't run into him on the stand.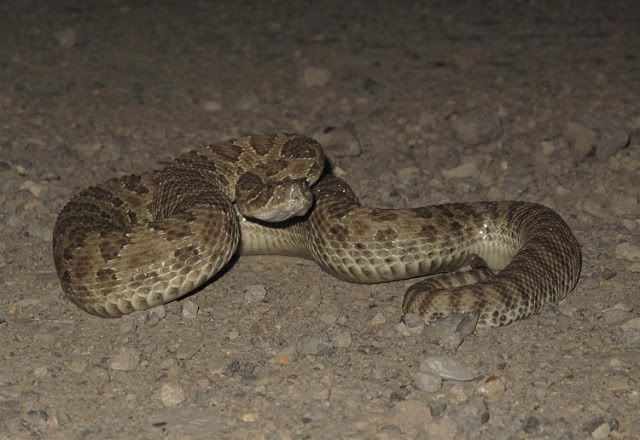 All in all, Friday the 13th wasn't a bad evening. The success on the first stand, with a brand new rifle, was over the top satisfaction. I just figured the rattle snake on the way out was just carma reminding me that it was Friday the 13th...