Posted by: SSharp
What happens to coyotes from WCCC? -
12/08/11
03:04 PM
When I returned home from the World Coyote Calling Championships everyone wanted to know what happened to all of the dead coyotes. GREAT QUESTION!!! Thought I would share some pics just in case anyone else were wondering the same thing.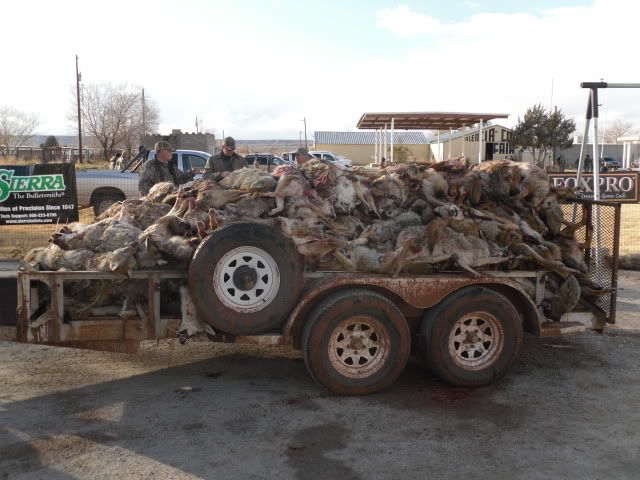 This is just some of what they started with. I saw two trailer loads head back to the skinning tables. It said in the rules that all coyotes brought in to the check-in were the property of the contest. Since it was hosted by the New Mexico Trappers Association, I guess they owned them all. So get to skinning!!!
These were some of the neatest skinning tables I have every seen. Clamps on one end to hold the back legs and a small winch with clamps on the other to help pull the hide over the carcass. There was a lot less knife work than I expected because the wench did most of the work after clearing the back legs and tail area. Man that coyote hide is some tough stuff. It amazed me how much pressure they could use on the winch without ripping the hide.
These guys were SUPER FAST at skinning. I don't know how many they skinned or how they were culling thru them, but by the end there were a lot of hides hanging on the fence. Just a little behind the scenes action from the 2011 World Coyote Calling Championships in Belen, NM.